Hors D'oeuvres priced per piece, minimum order of 25
*fan favorites
Hors D'oeuvres priced per piece, minimum order of 25
*fan favorites
Cold/Room Temperature Appetizers:
*Seared Ahi Tuna

Sesame seared Ahi Tuna served on a wonton chip or cucumber round (GF) with wasabi & Asian glaze | $2.50
Summer Rolls
(VG & GF) Crispy vegetables wrapped in rice paper with sweet chili dipping sauce | $2.00
Grape & Goat Cheese Truffles
(V & GF) Almond dusted & drizzled with honey | $1.95
*Open-face Mini Lobster Roll

New England style lump lobster salad in a toasted bun | $3.50
Southwestern Ceviche
(GF) Fresh NC fish, red onion, cilantro, jalapeno, fresh squeezed lime juice served in a tortilla cup and topped with a cool lime sour cream | $2.50
*Stuffed Strawberries
(V & GF, Seasonal) With a honey-marscapone cheese, mint leaf & balsamic drizzle | $2.25
Caprese Kabobs
(V & GF) Cherry tomato, mini buffalo mozzarella, fresh basil tossed in pesto | $2.00
Smoked Salmon Cucumber Cup
(GF) In-house Smoked Salmon in a Cucumber Cup topped with Caper Crème Fresh | $2.50
Deviled Eggs
Your choice of: dijon & truffle (V & GF) or pimento & bacon (GF) | $0.95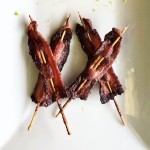 Deep Fried Collard Greens
(VG & GF) Deep fried collard greens chips, tossed in Chef Brad's BBQ dry rub, a great bar snack! | $1.00
*Candied Bacon
(GF) Apple Cider Brined Thick Cut Maple Bourbon Candied Bacon, a great bar snack! | $1.25
*Fig Flatbread
House fig jam, whipped mascarpone cheese with bacon & chives on a mini toasted flatbread, balsamic glaze | $2.00
Crostini's:
*(V) Roasted Vegetable Bruschetta, Herbed Goat Cheese & Balsamic Glaze | $2.25
Sliced Beef Tender, Horseradish-Dijon & Arugula | $2.25
Grilled Peach Bruschetta, Prosciutto, Mascarpone & Balsamic | $2.25
Chopped Chicken & Bacon in Boursin Cheese, sprinkled with Fresh Herbs | $2.25
(VG) Classic Tomato-Basil Bruschetta with Aged Balsamic | $2.00
Hot Appetizers:

Mini Mason Jars:

*Eastern NC Pulled Pork, coleslaw and sweet cornbread | $2.50
Peach BBQ Chicken and cheddar-jalapeno cornbread | $2.50
*Mini Crab Cakes
Served on a lemon wheel with a spicy remoulade | $3.95
Buffalo Cauliflower Bites
(VG & GF) Ranch seasoned and roasted cauliflower tossed in our house buffalo sauce | $1.00
Soup Sippers
(V) Tomato Basil Bisque with a Grilled Cheese Wedge | $2.00
French Onion with a Gruyere Cheese Crostini | $2.00
(VG & GF) Butternut Squash Bisque with a Brown Sugar Crème Fraise | $2.00
Seared Scallops
Tequila-Lime seasoned, served on a homemade tortilla chip | $3.00

Prosciutto wrapped with a tangy Tomato-Sage jam | $3.00
*Fried Macaroni & Cheese Bites
(V) Our famous homemade mac & cheese, fried to a perfect bite, drizzled with Texas Pete Ranch | $2.00
*Mini Tomato Pie 
(V) A miniature version of the Southern traditional tomato pie | $2.25
Mini Pierogis
with sour cream & sauteed onion | $2.25
*Shrimp & Grits Martini (award winning)
(GF) Creamed local stone-ground grits topped with a low country bacon sauce, blackened shrimp, chopped chives & tomatoes, served in a mini martini cup | $3.00
Beef Tip Gorgonzola
 A grilled beef tender tip, caramelized onion & Gorgonzola cream in a petite pastry cup | $2.50
*Petite Pot Stickers 
Vegan or Pork Dumpling with an Apricot Ponzu served in an Asian Spoon | $2.00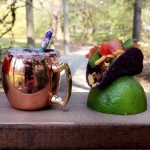 Stuffed Mushrooms
Italian Sausage, Crab, Spinach & Boursin (V) or Balsamic Bruschetta (VG) | $2.25
*Mini Taco Cups
Chipotle Chicken with Cotija, Crema & Pickled Onion | $2.25
Spicy Beef with Pico & Shredded Cheddar | $2.25
*Chicken & Waffles (award winning)
Fried Chicken Bite served on a Belgian waffle wedge with a bourbon-stout syrup | $2.50
Assorted Sliders & Biscuits
Fried Chicken | fried chicken on a mini buttermilk biscuit with a Texas Pete ranch & dill pickle chip | $2.50
Beef & Boursin | grilled beef tender, arugula & Boursin cheese spread |$2.50
Cheese Burger | with ketchup and pickle | $2.50
BBQ Short Rib | Ashe County Sharpe Cheddar on a sweet potato biscuit  | $2.75
ENC Pulled Pork | with coleslaw | $2.50
Fried Green Tomato BLT | with a pimento cheese spread | $2.50
Bird & Brie | Grilled chicken, warm brie, bacon & apple butter | $2.50
Spiral Ham | with honey mustard on a warm cheddar biscuit | $2.25
Late Night Snack Ideas: breakfast burritos or biscuits, mini hot dogs, chicken wings, mini pizzas, sliders or buffalo chicken dip
Cold/Room Temperature Appetizers
Hot Appetizers
Assorted Sliders & Biscuits
Hors D'Oeuvres & Cocktail Pairing
A Fun and Delicious way to show your Creativity at your Special Event! Miniature Versions of your Favorite Food & Cocktail Pairings.